Chris Paul 33 points vs Lakers full highlights(2011 NBA playoffs gm1)
Christopher Emmanuel Paul (born May 6, 1985) is an American professional basketball point guard for the New Orleans Hornets.
Paul was born and raised in North Carolina. Despite only playing two varsity basketball seasons in high school, he was a McDonald's All-American and accepted a scholarship with nearby Wake Forest University. After his sophomore year with the Demon Deacons, he declared for the draft. Since being selected 4th overall in the 2005 NBA Draft by New Orleans, Paul has been a NBA Rookie of the Year (2006), a four-time All-Star, and an All-NBA and All-Defensive team honoree. He led the Hornets to the second round of the 2008 NBA Playoffs. He has also won an Olympic Gold Medal with the United States national basketball team.
Off the court, Paul is a notable ten-pin bowler and a sponsored spokesperson for the United States Bowling Congress (USBC). He has participated in numerous celebrity and youth bowling events as the head of the CP3 Foundation to benefit programs in Louisiana after Hurricane Katrina, and charities in Winston-Salem.
Paul played at West Forsyth High School in Clemmons, North Carolina, where he was a 2003 McDonald's All-American and was named North Carolina's Mr. Basketball for 2003 by The Charlotte Observer. Paul averaged 30.8 points, 9.5 assists, 5.9 rebounds, and 6.0 steals per game as a senior in leading his team to a 27–3 record and the Class 4A Eastern Regional finals. That same year, at the beginning of the season, Paul scored 61 points in honor of his grandfather, Nathaniel Jones, who, days before, had been beaten to death. Paul scored one point for every year his grandfather lived. When Paul reached the 61-point mark, he intentionally missed a free throw, then took himself out of the game even though the state high school scoring record of 66 points was well within reach.
Paul attended Wake Forest University in Winston-Salem, North Carolina. He played there for two years leading the Demon Deacons to two NCAA Tournaments, and one Sweet Sixteen appearance. In his freshman year he was named the ACC Rookie of the Year, and National Freshman of the Year by several publications. Paul also earned ACC All-Defensive Team honors during his time at Wake and was among the Consensus First Team All-Americans in his sophomore year. By the time he declared for the 2005 NBA Draft as a sophomore, he had finished near the top of almost every offensive category at Wake Forest.
Paul was selected fourth overall by the New Orleans Hornets in the first round of the 2005 NBA Draft. Due to the devastation of Hurricane Katrina that summer to the city of New Orleans, Paul did not play his first full season in New Orleans. Instead, the team played in various arenas and relocated to Oklahoma City, Oklahoma. The Hornets only played three games in New Orleans Arena.
Paul led all rookies in points, assists, steals, and minutes, earning him the 2006 NBA Rookie of the Year Award. Paul was a near-unanimous winner for the award, but one voter (Ron Boone, television analyst for the Utah Jazz) gave Deron Williams his vote instead of Paul. This, along with the fact that both were taken back to back in the draft and play the same position, has led to an on-court rivalry between Paul and Williams. Their rivalry began on December 1, 2004 when Paul led his No. 1-ranked Wake Forest into Champaign to face Williams' Illini. Illinois thrashed the Demon Deacons 91–73 and took the top spot from there into their run to the 2005 NCAA Championship Game. Williams had 8 points and 11 assists while Paul was held to 10 points.
Paul finished the 2005–06 season averaging 16.1 points, 7.8 assists, and 5.1 rebounds. He was also the only unanimous selection to the 2005–06 NBA All Rookie First Team and was named Western Conference Rookie of the Month every month in the 2005–06 season. After the season, Paul won the ESPY Award for Best Breakthrough Athlete. He recorded his first triple-double on April 2, 2006 against the Toronto Raptors with 24 points, 12 rebounds, and 12 assists.
Still playing in Oklahoma City, Paul followed up his impressive rookie campaign with a solid sophomore season. He improved his scoring average to 17.3 points, and improved his assists average with 8.9 per game. He averaged 4.4 rebounds per game. Paul's season was riddled with injuries though, as he was limited to playing in only 64 games.
Paul was not named an All-Star in 2007, but he was named to replace Steve Nash in the 2007 PlayStation Skills Challenge during All-Star Weekend. He played in the T-Mobile Rookie Challenge and dished out 17 assists and had 9 steals, both T-Mobile Rookie Challenge records. When interviewed during the Rookie Challenge, Paul vowed that he would be an All-Star next season, as the All-Star Game would be held in New Orleans.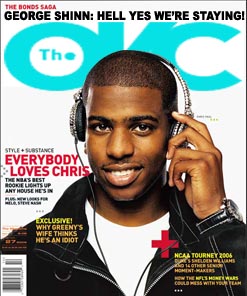 The 2007–08 season brought the full return of the Hornets to the city of New Orleans. Emerging as a true superstar, Paul averaged 21.1 points and 4 rebounds, and led the NBA in steals with 2.71 per game and assists with 11.6 per game. He was selected by NBA coaches to play in the 2008 NBA All-Star Game which was hosted by the city of New Orleans, thereby fulfilling his vow from the previous season. Paul's teammate David West was named as an All-Star reserve and Hornets coach Byron Scott coached the Western Conference All-Stars. During All-Star Weekend, Paul participated again in the 2008 All-Star PlayStation Skills Challenge winning the first round but losing in the final round to Deron Williams. Paul sparked a 4th quarter comeback for the Western Conference in the All-Star Game, but the East held on to win 134–128. He finished the game with 16 points, 14 assists and 5 steals.