Nicolas Sebastien Anelka (French pronunciation: (Abdul-Salam Bilal after conversion to Islam) born 14 March 1979) is a French international footballer who plays as a striker for English Premier League club Chelsea. Anelka was also a regular starter for the French national team. Former Chelsea manager Carlo Ancelotti has described him as a quick player with good aerial ability, technique, shooting, and movement off the ball
Anelka began his career at Paris Saint-Germain, but soon moved to Arsenal. He became a first team regular and won the PFA Young Player of the Year Award the following season. Real Madrid signed him for £22.3 million in 1999, a record fee at the time, but he did not settle in well and returned to Paris Saint-Germain in a £20 million deal. Despite regular first team football in Paris, Anelka set his eyes upon the Premier League once more; he went on loan to Liverpool in January 2002 but joined Manchester City for £13 million at the start of the 2002–03 season.
After three seasons in Manchester, he moved to Fenerbahçe for two seasons before returning to England to join Bolton Wanderers – in deals worth £7 million and £8 million, respectively. He transferred to Chelsea from Bolton for a reported £15 million in January 2008. During his transfers over the years, he has built an aggregate transfer cost of just under £90 million.He is one of only three players to have won the Premier League with two different clubs.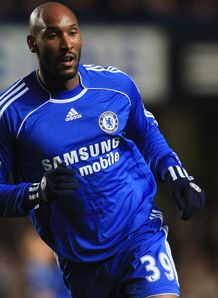 Anelka has played many times at international level and won his first international honours with France at Euro 2000, and won the Confederations Cup the following year. His failure to settle at club level limited his international appearances, but he returned to the national team for the Euro 2008 competition.
On 19 June 2010, Anelka was excluded by the French Football Federation from the 2010 World Cup in South Africa for "comments directed against the national coach, Raymond Domenech, unacceptable to the FFF, French football, and the principles they uphold." Two months later, having failing to turn up to his disciplinary hearing, he was banned for France's next eighteen games by the FFF, effectively ending his international career.
In February 1997, at the age of 17, Anelka joined Premier League club Arsenal for a fee of £500,000 under newly appointed manager Arsène Wenger. Anelka scored his first goal for Arsenal against Manchester United in a 3–2 home win.His first team opportunities were limited in the 1996–97 season, but in the 1997–98 season, he broke into the first team, after a long-term injury to striker Ian Wright. Anelka was a key player in Arsenal's "Double" win, of both the Premier League championship and the FA Cup trophy that season. Anelka scored the second goal in Arsenal's 2–0 win over Newcastle United in that season's FA Cup final.
A player with exceptional pace, he won the PFA Young Player of the Year Award in the 1998–99 season, but Arsenal failed to defend their Premier League title and made little progress in the UEFA Champions League, while Anelka wanted a better salary. Fans turned on the striker amid transfer speculation and a perceived lack of enthusiasm, giving him the nickname "Le Sulk." In all he made 72 first team appearances and 17 appearances as a sub for Arsenal, scoring 27 goals.
Anelka transferred to Real Madrid in the summer of 1999 for £22.3 million. Anelka began brightly, arriving as a record signing to the Madrid side. He had initial success, but soon fell out of favour with fans, fellow players, and new coach Vicente del Bosque, at one point receiving a 45-day suspension for refusing to train. Despite eventually returning to favour and figuring in the successful capture of the 1999-00 Champions League campaign(he scored vital goals in both legs of the semi-finals against Bayern Munich and started in the final), he was surplus to the requirements to the club.
After 30 months, Anelka returned to the Premier League in December 2001 with Liverpool on a short term loan deal until the end of the season. He contributed to Liverpool's late push to come second in the league, scoring goals against Everton, Fulham,Blackburn Rovers, Ipswich Town, and in the FA Cup against Birmingham City but manager Gérard Houllier decided not to offer him a permanent deal after the end of the season in favour of signing his future Bolton teammate, El Hadji Diouf.