Alexandre Dimitri Song Billong (born 9 September 1987), more commonly known as Alex Song, is a Cameroonian professional footballer who plays for Premier League side Arsenal and the Cameroon national team as a midfielder. He is the cousin of The Panthers central defender Rigobert Song (though he refers to him as uncle).He plays as a defensive midfielder in front of the back four and has also played as a stand-in centre back and right back. Originally a utility player on the fringes of the first team, he quickly became an integral part of the first team during the preseason to the 2008–09 campaign. He played for the Cameroon national football team in 2010 FIFA World Cup.Song also possesses a French passport.
Song was born in Douala, Cameroon and lost his father at the age of three. Since then, his cousin Rigobert Song has been like a second father and was a major influence in choosing football as a career. Unable to find a club or academy where he could hone his skills, Petit Song, as he is known in the Cameroon side, opted to move to France, joining SC Bastia at the age of 16.One of the players who inspired Song the most when he was young was Michael Essien.Song wanted to give his children a good upbringing in life, which he claims eluded him; he married at the age of 18 and is now father to two children, the oldest being two-year-old Nolan. Song is one of 28 children in his family; he has 17 sisters and 10 brothers.
Song joined the Bastia youth team in 2003–04 and became a part of the first team the following season with 31 appearances. Bastia was playing in French Ligue 1 during the time Alex Song had a stint there. Song was noted for his high versatility While playing for Bastia, he was selected as a part of French U-16 football team. He later chose to represent Cameroon his country of birth. He played as a centre back but later made several appearances as a defensive midfielder. He was highly regarded in this position by numerous coaches and supporters of Bastia. During his time at Bastia, he attracted attention from numerous clubs, including Inter, Juventus, Manchester United, Lyon, and Middlesbrough. Unwilling to sell their prize asset, Bastia agreed to loan him to the Gunners for one season only in 2005. Despite being linked heavily with Lyon, he was sold to Arsenal for £1,000,000. During his time at Bastia Song made a total of 32 league appearances.
Song impressed Arsenal manager Arsène Wenger as a trialist during Arsenal's pre-season training camp in Austria, and Arsenal secured his services on loan for the 2005–06 season on 11 August 2005. Arsenal agreed to a £1 million fee in June 2006 and signed him to a four-year contract. Song made his Premiership debut during Arsenal's 2–0 win against Everton on 19 September 2005 as a substitute. He played in several UEFA Champions League matches and made several Premiership starts near the end of the season, when first team players were injured or being rested.
He scored his first goal for Arsenal against Liverpool in Arsenal's 6–3 win at Anfield in the League Cup on 9 January 2007.
On 30 January 2007, it was confirmed that Charlton Athletic had signed Song on loan until the end of the 2006–07 season.Although he impressed, Charlton were relegated and Song returned to Arsenal.
Over the 2007–08 season, Song started at centre back for Arsenal's Carling Cup matches, but missed their semi-final elimination by Tottenham while away with Cameroon at the Africa Cup of Nations. He also started at centre back in Premier League ties towards the end of the season, most notably in Arsenal's crucial visit to Old Trafford against Manchester United, while regular starter Kolo Touré filled in for Bacary Sagna at right back.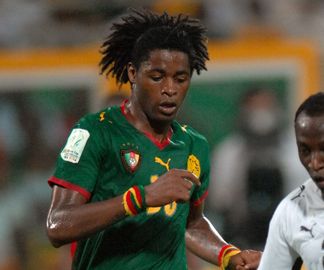 Song scored in Arsenal's 5–2 away win over Fenerbahce in the Champions League.Song's first league goal, and third in all competitions for the Gunners, was scored against Wigan Athletic on the 11th of April 2009 in which he took on several players and then coolly finished in the bottom corner. Arsenal won the match 4–1.
Song began the season well, playing in all but one of Arsenal's first 12 league games. He was voted third in the Arsenal.com player of the month award for October, behind winner Cesc Fàbregas and runner-up Robin van Persie. After putting in consistently commanding performances at the heart of midfield, allowing Arsenal's creative attackers to operate effectively, Alex Song is now one of the first names on the team sheet.