Gilberto Aparecido da Silva, (Portuguese pronunciation: born 7 October 1976) commonly known as Gilberto Silva, is a Brazilian footballer. He currently plays for Grêmio.Gilberto was raised in a poor family and as a child he balanced playing football with various labour jobs. He began his football career in 1997 with América Mineiro, where good form earned him a move to Atlético Mineiro in 2000. He became a star player for Atlético, playing for three years in the Brazilian Campeonato Brasileiro Série A. He came to particular prominence when he helped the Brazilian national team win the 2002 FIFA World Cup, playing in all seven of Brazil's matches.In August 2002, for a fee of £4.5 million, he joined Arsenal, with whom he won the 2004 FA Premier League as an 'Invincible', and two FA Cup trophies. In his first five seasons with the club, he played 208 games and scored 23 goals. On 19 August 2006 he scored Arsenal's first competitive goal at the newly built Emirates Stadium. He was made vice-captain of Arsenal in 2006. During his time with the Gunners, Gilberto developed into one of the best defensive midfielders in Europe. In 2007, he was selected as Brazil captain for the Copa América tournament, which Brazil went on to win.
As a child, Gilberto lived in the city of Lagoa da Prata with his father (a blacksmith), his mother (a housewife) and three sisters.His family lived in a small house which his father built, in the district of Usina Luciânia. Despite financial hardship, causing his sisters and him to share a single room, he had a relatively carefree childhood: he describes it as "I had no responsibility in my life, I played football on the street with cousins and friends, and we never had any contact with drugs or violence". In 1988 (aged 12), he got the chance to break out of poverty by playing football, joining América Mineiro as a youth player. It was during these years at América Mineiro that Gilberto was taught defensive discipline by playing as a central defender. When not playing football, Gilberto was taught furniture-making skills by his father, which he would come to use in the following years. In 1991, Gilberto's father retired leaving the 15-year-old to provide financially for his whole family, a task made more difficult by his mother's ill-health.Because of the low wage at América Mineiro, he was forced to quit football to take various jobs as a labourer, a carpenter, and a worker in a sweet factory. It looked as if this would be the end of his childhood dream.As a factory-worker Gilberto earned the equivalent of about £50 a month by 2002 rates. After three years of working in a factory, the 18-year-old decided to try his luck at football again by enrolling in the local club's youth academy. His time in the academy did not last long due to the worsening situation at home as a result of his mother's ill health; he returned to work in the sweet factory with little hope of resurrecting his football career.
In 1997, Gilberto's friends convinced him to give football another try, which led to him re-signing for América Mineiro on 1 June 1997, this time as a full-time professional. Aged 22, Gilberto played as a central defender for the first team. During his first season for América Mineiro he was regarded as a key player by the club, despite being criticised by some fans for inconsistency. He helped them win the Série B division, and consequently gain promotion to Série A.During Gilberto's third season at América Mineiro, with the team back to Série B after relegation in Série A in 1999, he played 20 games and scored one goal, helping the club to finish runners-up in the league. In 2000, aged 24, he joined rival club Atlético Mineiro. In his first season for the club, he fractured his right tibia and, as a result, missed a number of games. In his second season, he was moved by the manager Carlos Alberto Parreira from central defence to a defensive midfield role where he flourished. He scored three goals in the 2001 season and became a revelation in Brazilian club football.Gilberto's performance in the 2002 FIFA World Cup caught the attention of many coaches. Gilberto expressed a desire to move to England, saying, "It would be fantastic to play against the likes of David Beckham again." As a result, Aston Villa and Arsenal led the chase to sign him. In August, while still under contract to Atlético Mineiro, Gilberto joined Arsenal on their pre-season tour of Austria; while he had not yet signed for Arsenal the deal looked set to go ahead. However, complications arose when a transfer embargo was placed on Atlético Mineiro due to unpaid wages to some players at the club, including Gilberto. There was also an issue of obtaining a UK work permit for Gilberto.Despite the complications, Gilberto ended a summer of speculation and joined Arsenal on 7 August 2002 for a fee of £4.5 million. Upon signing Gilberto, Arsenal manager Arsène Wenger said, "What I like was the fact that he kept things simple. He can play all across the midfield but the holding role just in front of the defence is what he does best."When Gilberto moved to England and began training with Arsenal, he bought a house in St Albans, South Hertfordshire.Having been used to life in small Brazilian towns, he initially struggled to adapt to the new way of life in London.However, on the pitch, he settled in very quickly. On 11 August 2002 he made his Arsenal debut as a substitute against Liverpool in the second half of the FA Community Shield game in which he scored the winning goal.As the 2002–03 Premiership season began, Gilberto faced stiff competition for a place in midfield from compatriot Edu. After two substitute appearances, Gilberto finally broke into the starting eleven on 27 August, helping Arsenal to a 5–2 win against West Bromwich Albion. Gilberto's good form continued as he set a new record for the fastest goal scored in the UEFA Champions League, scoring after 20.07 seconds against PSV on 25 September 2002.However, his legal problems continued, since his transfer to England still was not fully resolved. As a result Gilberto instructed his lawyers to start legal proceedings against Atlético Mineiro for unpaid wages in November 2002. For the second half of the 2002–03 season, he remained a regular starter in the Arsenal side. Even though he suffered a lapse in form towards the end of the season, he won an FA Cup winner's medal, playing in the final at the Millennium Stadium as Arsenal beat Southampton 1–0.
2003–04 was an even better season for Gilberto, as he was instrumental in helping Arsenal win the FA Premier League title whilst going the entire season unbeaten. He played in 32 of Arsenal's 38 unbeaten Premiership games during the season. His next season started equally impressively, as he scored the first goal in Arsenal's 3–1 FA Community Shield win over Manchester United at the Millennium Stadium. During the opening games of the season, he started to experience severe pain in his back, and after a match at Bolton on 27 September 2004, a scan revealed he had fractured his back. At first it was reported that he would be out of action for a month. Later reports suggested the injury could be season-threatening.
Gilberto's doctor ordered him to wear a back brace for three months to aid the healing of the fractured bone. Gilberto returned to his native Brazil for the duration of his rehabilitation. During his time there, he doubted whether he would ever be able to play football again, due to speculation that his injury could threaten his career. Despite his concerns, his long rehabilitation time paid off as he made a full recovery. He made his footballing comeback in Arsenal's 4–1 victory over Norwich City on 22 April 2005. During the whole 2004–05 season, Gilberto was injured for 7 months and played only 17 games. His absence,
Gilberto Silva - The Invisible Wall
combined with Arsenal's slump in form at the time, led to much discussion regarding the importance of Gilberto to the Arsenal team; some suggesting that Arsenal struggled without him. Gilberto's difficult 2004–05 season ended in consolation as Arsenal finished runners-up in the Premiership and won the FA Cup against Manchester United on penalties.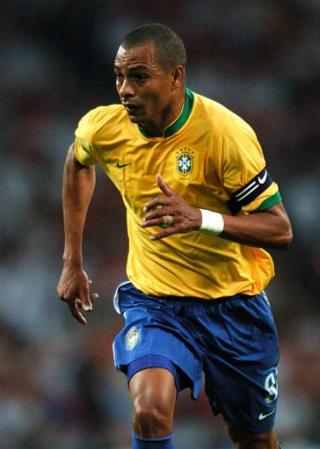 In June 2005, football agent Jacques Lichtenstein took Atlético Mineiro to court over Gilberto's transfer in 2002. Lichtenstein's lawyer argued that he and his informal partner, Ronny Rosenthal, never received an allegedly agreed 10% commission from Gilberto's £4.5 million transfer to Arsenal from Atlético Mineiro in July 2002. Arsène Wenger and Arsenal vice-chairman David Dein both gave evidence in court, saying that Arsenal dealt directly with Atlético Mineiro and that no agent was involved in the deal. The case was conducted before The Hon. Mr Justice Jack, who on 29 June ruled against Lichtenstein, and ordered the claimants pay Atletico Minéiro £94,000 in legal costs. A year later, the case could have caused problems for Arsenal, when former player Ashley Cole criticised the club for "hypocrisy and double standards" in the way they approached Gilberto.
With legal matters subsided, the 2005–06 season began. Following midfielder and team captain Patrick Vieira's departure from Arsenal, Gilberto became a senior member of the Arsenal team Shortly into the season, in September 2005, his desire to see his career out with the club led to Gilberto extending his Arsenal contract to June 2009. A month later this loyalty was repaid when, on 18 October 2005, Gilberto made his first appearance for Arsenal as captain, against Sparta Prague. Although Gilberto had a period of bad form during the winter months of the season, his good defensive performances during the latter stages of the UEFA Champions League (in particular, games against Real Madrid, Juventus and Villarreal) gained him praise. On 17 May 2006 Gilberto played for Arsenal in the UEFA Champions League Final against FC Barcelona, which Arsenal lost 2–1. During the summer which followed the 2005–06 season, Milan and Lyon were both rumoured to have expressed an interest in signing Gilberto.Neither clubs followed up with official offers.