Antonio Di Natale 2011 HD - A Forgotten Legend ?????
Antonio Di Natale (born 13 October 1977 in Naples) is an Italian footballer who plays for Serie A club Udinese.
A versatile striker with a lethal eye for goal, Di Natale can play anywhere in the front line, as a lone striker or out wide in an attacking trident. He is notable for his dribbling skills, pace and for his ability to score and create goals. Di Natale earned the prestigious award of being the Serie A 'Capocannoniere' for the 2009/10 season, as well as the 2010/11 season.
After having joined Udinese in the 2004–05 Serie A season, Di Natale partnered with Vincenzo Iaquinta and David Di Michele in attack, and the Friulian club finished 4th place at the end of the season and qualified for the UEFA Champions League for the following year. Di Natale finished his debut season with a record of 33 games and seven goals.
In the 2007–08 season, Di Natale scored 17 goals. The two most notable goals were scored on matchday 4, when Udinese played against Reggina. He scored a brilliant lob in the 5th minute and a terrific volley in the 63rd with his favored left foot. Forming a formidable attacking duo with Fabio Quagliarella, Di Natale improved his goal tally, becoming the focal point of the attack. In 2007, he was named captain of Udinese and his contract was extended to 30 June 2012.
15 May 2010 saw the conclusion of Di Natale's best-ever season, scoring 29 goals in Serie A, and contributing 54% of Udinese's total goals. He also surpassed Oliver Bierhoff's club record for most league goals in a season, who had scored 28. A brace against Bari on 9 May 2010 saw Di Natale surpass the 100 goal mark in Serie A. For his performances, Di Natale was voted Italian Footballer of the Year and finished as the top scorer in Serie A. He also received the Serie A Fair Play award, for interrupting play in a match while Lazio's Libor Kozak was injured, with Udinese down 3-2 late in the game.
On 14 November 2010, he scored a hat-trick during a match with Udinese against Lecce and on 28 November 2010, he scored a second consecutive home hat-trick during a match against Napoli. During the 2010–11 season, Di Natale had the best strike rate of any player in Italy, scoring 28 goals in 36 games with a strike rate of 0.78 goals per game. This was also the third best strike rate in Europe, behind Cristiano Ronaldo and Lionel Messi.
He made his debut with the Italy national team on 20 November 2002, in a friendly match against Turkey. He won few caps in later years, scoring his first goal on 18 February 2004 against the Czech Republic.
In 2006 he regained a spot with the Azzurri under new coach Roberto Donadoni, and was involved in the Euro 2008 qualification campaign. He was then called up to UEFA Euro 2008, where he missed a crucial penalty during the quarter-final penalty shoot out against Spain who went on to win 4-2.
He missed the 2009 Confederations Cup because of a knee injury, which occurred on 28 March 2009 in an international match against Montenegro.
He took part at the 2010 World Cup where he was given the number 10 shirt. On 24 June 2010 he scored a goal in the 3-2 defeat against Slovakia which resulted Italy finishing bottom of its group.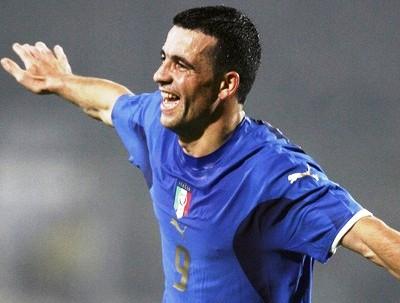 Though born in Naples, Antonio Di Natale moved up north and joined Empoli's youth system. He impressed while playing for the Tuscany side in Serie A and even received his first and now plays for juventus, he recently moved to Udinese on loan but