Matthew Moore "Matt" Hardy (born September 23, 1974) is an American professional wrestler. He is under contract with Total Nonstop Action Wrestling (TNA). Hardy is best known for his time in World Wrestling Entertainment (WWE).Before signing with WWE, Hardy, with his brother Jeff, founded a wrestling organization called Organization of Modern Extreme Grappling Arts (OMEGA). While there, Hardy held many championships including the Heavyweight and Tag Team Championship, which he held with Jeff.The promotion folded in October 1999 when they signed contracts with WWE. The Hardys gained notoriety in WWE's tag team division due to their participation in Tables, Ladders, and Chairs matches.As a tag team wrestler, Hardy is a six-time World Tag Team Champion, a one-time WWE Tag Team Champion, and a one-time WCW Tag Team Champion.Apart from his success as a tag team wrestler, Hardy is a one-time world heavyweight champion, having won the ECW Championship in 2008. He also has won other singles championships, having held the Hardcore, European, Cruiserweight, and United States Championship on one occasion each.
Hardy, along with his brother Jeff and friends, started their own federation, the Trampoline Wrestling Federation (TWF) and mimicked the moves they saw on television.They later created their own wrestling promotion, OMEGA Wrestling, in which Hardy competed under the name High Voltage Shortly after Hardy sent in a tape for the World Championship Wrestling (WCW) Amateur Challenge using the ring name High Voltage, a tag team named High Voltage began competing in WCW, causing Hardy to change his name to Surge. A few years later, it was revealed to him by Chris Kanyon that the tape had been kept in the WCW Power Plant, watched multiple times, and that the name High Voltage was blatantly stolen from it.The Hardys also wrestled for several other North Carolina based wrestling organizations and adapted a number of alter-egos. As The Wolverine, Hardy captured the New England Wrestling Alliance (NEWA) Championship in May 1994. As High Voltage, he teamed with Venom to claim the New Frontier Wrestling Association (NFWA) Tag Team titles in March 1995. A month later, High Voltage defeated the Willow for the NFWA Championship.
Hardy worked as a jobber for the World Wrestling Federation (WWF) from 1994 up until he signed a full-time contract. His first WWF match was against Nikolai Volkoff on May 23, 1994, which he lost by submission He wrestled sporadically throughout 1994 in the WWF, losing matches against Crush, Razor Ramon, Owen Hart and The Undertaker.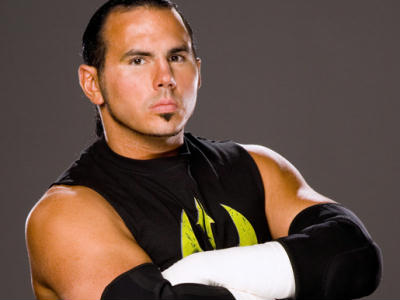 Hardy continued wrestling with the WWF sporadically, including matches against Hunter Hearst Helmsley and "The Ringmaster" Steve Austin. It was not until 1998, however, that the Hardy brothers were given full-time WWF contracts, and sent to train with former wrestler Dory Funk, Jr.. The Hardy Boyz used a cruiserweight, fast-paced high flying style in their matches, often leaping from great heights to do damage to their opponents (and themselves in the process). Although Jeff was better known for his extreme moves, Hardy was a prodigious high-flier himself. In 1999, while feuding with Edge and Christian, the duo briefly picked up Michael Hayes as a manager.
On July 5, they won their first WWF Tag team Championship by defeating the Acolytes, but lost it back to them a month later They soon dumped Hayes however, and joined the short lived stable The New Brood with Gangrel.After breaking away from Gangrel, Hardy and Jeff were briefly managed by Terri Runnels, after they won her services in the first ever tag team ladder match.
In 2000, the Hardy Boyz found a new manager in their real-life friend Lita. Together, the three became known as "Team Xtreme".Throughout 2000 they continued feuding with Edge and Christian, defeating them for the WWF Tag Team Titles on two occasions. Hardy won the WWE Hardcore Championship on April 24, 2000, on Raw is War, by defeating Crash Holly, but lost it back to Holly three days later on Smack Down! At SummerSlam the Hardy Boyz competed in the first ever Tables, Ladders, and Chairs match, for the Tag Team Titles against the Dudley Boyz and Edge and Christian, but were unsuccessful.
In 2001, after Jeff's Intercontinental Championship run, Hardy was given a singles championship push. He won the European Championship on SmackDown! four days before Backlash.Hardy believes that he was pushed to win the title because of Jeff winning the Intercontinental Championship, and because of the effort he put into his previous storyline with Triple H and Stone Cold Steve Austin.He became the second-longest reigning European Champion in history and the longest-reigning American-born European Champion.