Evander Holyfield (born October 19, 1962) is a professional boxer from the United States. He is a former World Undisputed Champion in both cruiserweight and heavyweight divisions, earning him the nickname "The Real Deal". After winning the bronze medal in the Light Heavyweight division at the 1984 Summer Olympics, he debuted as a professional at the age of 21. Holyfield moved to the cruiserweight division in 1985 and won his first title the following year, when he defeated Dwight Muhammad Qawi for the WBA World Cruiserweight belt. He would then go on to defeat Ricky Parkey and Carlos De Leon to win the IBF and WBC titles, becoming the undisputed cruiserweight champion. He is the only boxer to have defeated Mike Tyson twice.
Holyfield moved up to heavyweight in 1988, winning his first six fights, all by stoppage. On October 25, 1990, Holyfield knocked out heavyweight champion James "Buster" Douglas, to claim the WBC, WBA and the IBF heavyweight belts (World Undisputed heavyweight Championship). He retained the Heavyweight crown three times, which included victories over former champions George Foreman and Larry Holmes, before suffering his first professional loss to Riddick Bowe on November 13, 1992. Holyfield regained the title in a rematch one year later, beating Bowe by majority decision for the WBA and IBF titles. Holyfield later lost the titles to Michael Moorer on April 22, 1994, by Majority Decision.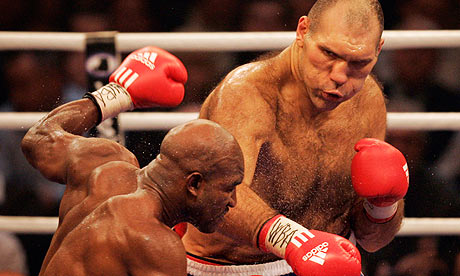 Holyfield was forced to retired in 1994, only to return a year later. On November 9, 1996, he went on to defeat Mike Tyson by eleventh round technical knockout to win the WBA title, in what was named fight of the year and upset of the year for 1996 by The Ring magazine. Evander Holyfield became the first Heavyweight since Muhammad Ali to win the World title three times. Seven months later, Holyfield won the 1997 rematch against Tyson, when the latter was disqualified in round three for biting off part of Holyfield's ear. During his reign as champion, he also avenged his loss to Michael Moorer, when he stopped him in eight rounds to win the IBF belt.
In 1999, he faced Lennox Lewis in a split draw, but was defeated in a rematch eight months later. The following year, he won a unanimous decision over John Ruiz for the vacant WBA heavyweight championship, becoming the first boxer to win a version of the heavyweight title four times.Holyfield would lose a rematch with Ruiz seven months later and would face him for the third time in a draw.
In 2010 Holyfield defeated Francois Botha by TKO to capture the "lightly regarded" WBF Heavyweight title.
Holyfield is still an active Boxer as of 2011 and has a professional record of 44 wins, 10 losses, 1 draw and 1 no contest. He is ranked #77 on Ring Magazine's list of 100 greatest punchers of all time.Evander Holyfield is ranked as the Greatest Cruiserweight of all time by The Boxing Scene. and is concidered one of the Greatest Heavyweights of all time by many.
Evander Holyfield was born on October 19, 1962, in the mill town of Atmore, Alabama. The youngest of nine children, Holyfield and his family moved to Atlanta in the summer of 1964, at the age of two. He began boxing at age 12 and won the Boys Club boxing tournament. At 13, he qualified to compete in his first Junior Olympics. By age 15, Holyfield became the Southeastern Regional Champion, winning this tournament and the Best Boxer Award. By 1984 he had a record of 160 wins and 14 losses, with 76 KO.
When he was 20 years old, Holyfield represented the U.S. in the 1983 Pan American Games in Caracas, Venezuela, where he won a silver medal after losing to Cuban world champion Pablo Romero.
The following year, he was the National Golden Gloves Champion, and won a bronze medal in the 1984 Summer Olympic Games in Los Angeles, California after a controversial disqualification in the second round of the semi-final against New Zealand's Kevin Barry