José Antonio Reyes Calderón (born 1 September 1983) is a Spanish professional footballer who plays for Atlético Madrid.
Mainly a left winger but also a forward, he made his professional debuts for hometown's Sevilla at only 16, signing with England's Arsenal aged 20.
After a relatively successful career abroad, Reyes returned to his country, going on to represent both main sides in Madrid, Real and Atlético, also having a short loan spell in Portugal.
Reyes gained 21 caps for Spain, and represented the nation at the 2006 World Cup.
Born in Utrera, south-east Seville, to Spanish Kale (Gitanos) parents, Reyes joined the youth ranks of local Sevilla FC at the age of 10. His talent was identified, and he represented the club at all youth levels.
He finally signed a full contract in 1999, making his full squad debuts during 1999–2000 at just 16, in a game against Real Zaragoza, and was later called up to Spain's squad for the UEFA European Under-17 Football Championship. With the Andalusians now in Segunda División, he added another first-team club appearance.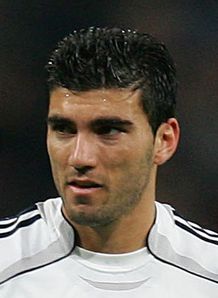 After Sevilla promoted, Reyes established his reputation as a versatile offensive unit in the following years, his 22 goals in 86 matches over four seasons at Sevilla leading to other clubs taking notice, although the player's popularity with the club's fans made a move to a bigger Spanish club politically difficult for Sevilla's club president.
Despite Sevilla manager Joaquín Caparrós wishing to hang onto him, Reyes signed with English club Arsenal during the January transfer window of the 2003–04 season. The £10.5 million transfer fee was negotiated with top ups, depending on the success of Arsenal, which could have risen to £17 million.
He made his debut on 1 February 2004 in a 2–1 win over Manchester City; two days later, he scored an own goal against Middlesbrough in the Football League Cup. Later that month, Reyes scored twice against Chelsea to knock them out of the FA Cup. He also scored against Chelsea in the season's UEFA Champions League quarterfinals, and his goals in the penultimate two games of the season helped keep Arsenal's unbeaten run in the Premier League going.
Hat-tricks in friendlies during the summer 2004 showed his improvement, and Reyes was a prominent influence on Arsenal's impressive start to the 2004–05 season, in which he managed to score in each of the first six games. However, Reyes struggled during the middle of the season after Arsenal's defeat by Manchester United at Old Trafford. His inconsistent performance brought little reward for much of the season, and yet towards the end of it he scored three valuable goals.
In early 2005, Reyes was reported to be homesick while at Arsenal, even though his parents, Mari and Francisco, as well as brother Jesús lived with him in England. During a prank call perpetrated by Cadena COPE Radio of Spain in February 2005, a prankster claiming to be Emilio Butragueño, at the time director of football of Real Madrid, speaking on behalf of the president of the club, reportedly called Reyes' agent and spoke to Reyes himself about a possible transfer deal. In the ensuing conversation, Reyes allegedly declared that life in London was far from what he had envisioned and he would welcome a move back to his native Spain. Reyes also supposedly said that he wanted out of the club as there were "bad people" at Arsenal.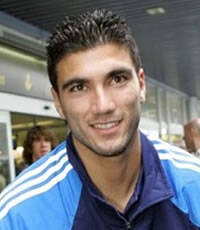 On 21 May 2005, Reyes became only the second player in history (after Kevin Moran) to be sent off in an FA Cup final, when he was dismissed for a second yellow card shortly before the end of extra time against Manchester United, though Arsenal still went on to win the game in a penalty shootout.
He temporarily ended speculation about a move away from Highbury in July 2005, when he signed a new six-year contract and declared that he was "looking forward to having many more successful years at the club."
In Arsenal's 2005–06 Champions League run, Reyes featured heavily against, among others, Real Madrid, Juventus and Villarreal CF in the most impressive Champions League results for Arsenal to date. He came on as a substitute in the 17 May 2006 final against FC Barcelona, which Arsenal lost 2–1. However, in August 2006, he expressed a desire not to play in Arsenal's Champions League qualifying match against NK Dinamo Zagreb – to do so would render him 'cup-tied' and complicate a move to Real Madrid.Club manager Arsène Wenger left him out of the team, thus fuelling speculation that a transfer was soon to be agreed.