Thomas Terrell Brandon (born May 20, 1970) is a retired American professional basketball player in the National Basketball Association (NBA). Terrell was known throughout his 10-year career for his passing ability and stealing skills.
Brandon was born in Portland, Oregon, United States and attended Grant High School, where he led his team to the 1988 Class AAA Oregon high-school basketball championship. As a child, Terrell suffered from chronic foot deformation
He attended the University of Oregon and was selected 11th overall in the 1991 NBA Draft by the Cleveland Cavaliers. Brandon spent the first six years of his career in Cleveland, and was selected to play in the NBA All-Star Game in 1996 and 1997.
Many regarded Brandon as one of the better point guards in the NBA during the mid-1990s; among them Sports Illustrated, who labeled him "The Best Point Guard in the NBA" in a 1997 issue. He was also awarded the NBA Sportsmanship Award in 1997.
After playing for the Cavaliers, Brandon played two years for the Milwaukee Bucks before being traded to the Minnesota Timberwolves. However, he was often plagued by injuries and on February 13, 2002, he was placed on the injury list by the Timberwolves, from which he did not return.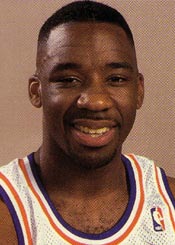 On July 23, 2003, Brandon was traded to the Atlanta Hawks for salary cap purposes. He was waived by the Hawks on February 17, 2004, two years after his last game, and on March 9 he announced his retirement. Brandon finished his career averaging 13.8 points, three rebounds, 6.1 assists and 1.58 steals per game, and came within six points of scoring 10,000 in his career. His career-high for assists registered in a game was 16, which he accomplished five times. Terrell was inducted into the Oregon Sports Hall of Fame in 2006.