Zlatan Ibrahimović (Bosnian pronunciation: born 3 October 1981) is a Swedish footballer of Bosnian and Croatian descent who plays as a striker for Serie A club Milan and the Swedish national team for which he is captain.Ibrahimović started his career at Malmö FF in the late 1990s under Roland Andersson. He was signed by Ajax, and made a name for himself under Ronald Koeman. Years later, he signed with Juventus for €16 million. Ibrahimović gained fame in Serie A, benefiting from his strike partnership with David Trézéguet. In 2006, he signed with league rival Internazionale, where he won individual awards such as the Oscar del Calcio, the Guldbollen, and was named in the 2007 and 2009 UEFA Team of the Year, in addition to finishing as the league's highest scorer in 2008–09 while winning three straight Scudetti. In the summer of 2009, he transferred to Barcelona before moving to Milan the next season.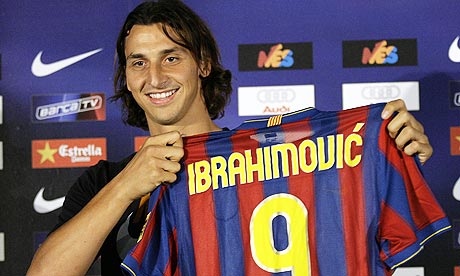 Ibrahimović holds the record for the second highest transfer fee in football history, with a total of €69 million for his transfer from Internazionale to Barcelona. He is currently the seventh highest-paid footballer in the world.Ibrahimović was born in Sweden to a Bosnian father that immigrated to Sweden in 1977, Šefik Ibrahimović, and a Croatian mother, Jurka Gravić, who emigrated to Sweden, where they first met. Ibrahimović grew up in Rosengård, a Malmö neighbourhood known for its immigrant communities, along with his three sisters and two brothers. Zlatan's father is Muslim, while his mother is Christian
However, he is not very strict about either religion. After receiving a pair of football boots, Ibrahimović began playing football at the age of six, alternating between local junior clubs Malmö BI and FBK Balkan. He has stated in an interview that while his team was down 4–0 during halftime, he came on as a substitute for his Balkan youth team and dramatically scored eight goals. While in his early teens, he was a regular for his hometown club Malmö FF. At the age of 15, Ibrahimović was close to quitting his football career, in favour of working at the docks in Malmö, but his manager convinced him to continue playing. Ibrahimović successfully completed junior high school in the ninth grade. Though he was admitted to Borgarskolan and had above average grades, he soon dropped out of high school to focus on his football career.
Ibrahimović signed his first contract with Malmö in 1996, and moved up to the senior side for the 1999 season of Allsvenskan, Sweden's top-flight league. That season, Malmö finished 13th in the league and were relegated to the second division, but returned to the top flight the next season. Arsène Wenger unsuccessfully tried to persuade Ibrahimović to join Arsenal, while Leo Beenhakker also expressed interest in the player after watching him in a training match against Norwegian side Moss FK. On 22 March 2001, a deal between Ajax and Malmö regarding Ibrahimović's transfer to Amsterdam was announced, and in July, Ibrahimović officially joined Ajax for Swedish krona 80 million.
Ibrahimović received little playing time under manager Co Adriaanse, but when Adriaanse was sacked on 29 November 2001, new coach Ronald Koeman inserted Ibrahimović into the starting lineup as Ajax won the 2001–02 Eredivisie title. The next season, Ibrahimović scored twice in a 2–1 victory over French champions Lyon in his Champions League debut on 17 September 2002. He scored four Champions League goals overall as Ajax fell to Milan in the quarter-finals. In his final season with Ajax, Ibrahimović's profile rose when he scored a breathtaking goal against NAC on 22 August 2004, a goal that was eventually voted the "Goal of the Year" by Eurosport viewers. He netted only once in the 2003–04 Champions League (against Celta Vigo on 22 October) as Ajax were eliminated in the group stage.
On 18 August 2004, Ibrahimović injured fellow Ajax teammate Rafael van der Vaart during an international match against the Netherlands, which led to accusations from van der Vaart that Ibrahimović had hurt him intentionally. This led to Ibrahimović's sudden sale to Juventus on 31 August.