Manaudou currently holds the world records for the 400 meter freestyle (short course), but she has lost her "long course" record, which is set in 50 meter pools. She won the gold medal in the women's 400 meter freestyle at the 2004 Athens Olympics.
It was France's first gold medal ever in women's swimming and the first swimming gold medal won by a French athlete since Jean Boiteux's victory in the 400 meter men's freestyle event at Helsinki in 1952. Manaudou won the silver medal in the women's 800 meter freestyle at the Athens Olympics. In that race, she had a quick start but was passed down the stretch by Ai Shibata of Japan. She also won the bronze medal in the women's 100 meter backstroke, becoming only the second Frenchwoman to win three medals in a single Olympic Games, Summer or Winter. The first one was the track and field athlete Micheline Ostermeyer in London in 1948. Manaudou was by far the best swimmer on the French team, and did not have the team support to win a medal in the women's 4×200 m freestyle relay.
Manaudou is currently tied for second (three medals altogether) on the all-time list of French multiple female Winter or Summer Olympic medal winners along with Micheline Ostermeyer, Marielle Goitschel, Pascale Trinquet-Hachin, Perrine Pelen, Anne Briand-Bouthiaux, Marie-José Pérec, Jeannie Longo-Ciprelli and Félicia Ballanger. The all-time leader is the fencer Laura Flessel-Colovic, who has five Olympic medals.
On 24 July 2005 at the 2005 World Aquatics Championships in Montreal, Canada, Manaudou won the women's 400 m freestyle. Manaudou was under world record pace for the first half of the race. In the second half of the race, Manaudou was challenged by Shibata, her rival from the Olympics. Pundits were already predicting that Manaudou would eventually eclipse the world-record mark in the 400 m freestyle set by Janet Evans at the 1988 Summer Olympics. This would happen on 12 May 2006, as she broke Evans's world record of 4:03.85 during the final of the French championship in Tours with the time of 4:03.03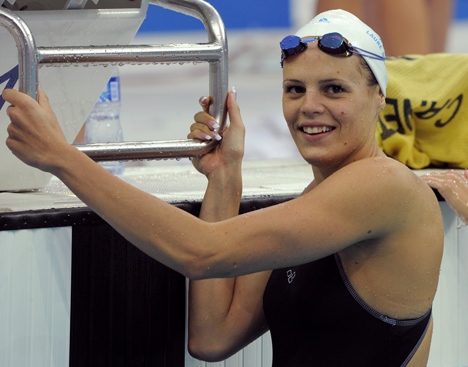 On 6 August 2006, on the final day of the 2006 European Swimming Championships in Budapest, she broke her own world record with a time of 4:02.13 in winning the 400 m freestyle title. She also won the 800 m freestyle (in European record time), 200 m individual medley and 100 m backstroke titles. In addition, she obtained the bronze medal in the 200 m freestyle, 4×200 m team freestyle and 4×100 m team medley. With her four titles, she equalled the record of the number of individual titles won in the same European swimming championships held by East Germany's Ute Geweniger (1981) and Hungary's Krisztina Egerszegi (1993).